We're a team of passionate individuals guided in the pursuit to offer high quality home & body care that is good for you, and the world waterways. When we see our brand highlighted in the media, we all rejoice! Interested in collaborating with us? We're happy to talk- email info@seawitchbotanicals.com to get the tides rolling.
As Featured In...
Each of these acknowledgements is an honor. Here is a running list of mentions in articles & blogs, along with other accolades we take pride in holding.

"I stumbled upon Sea Witch Botanicals while trying out eco-friendly brands for Earth Month and fell in love. They're a certified B-Corp, commit one percent of their yearly profits to environmental nonprofits, and plus, they're affordable. The brand's toner comes out in the finest mist and soothes my inflammatory acne, and the Hermitage Perfume has also earned a permanent place on my shelf. The scent is targeted towards Earth signs—I'm a proud Virgo—and I take the little tin in my purse to apply every time I need a boost."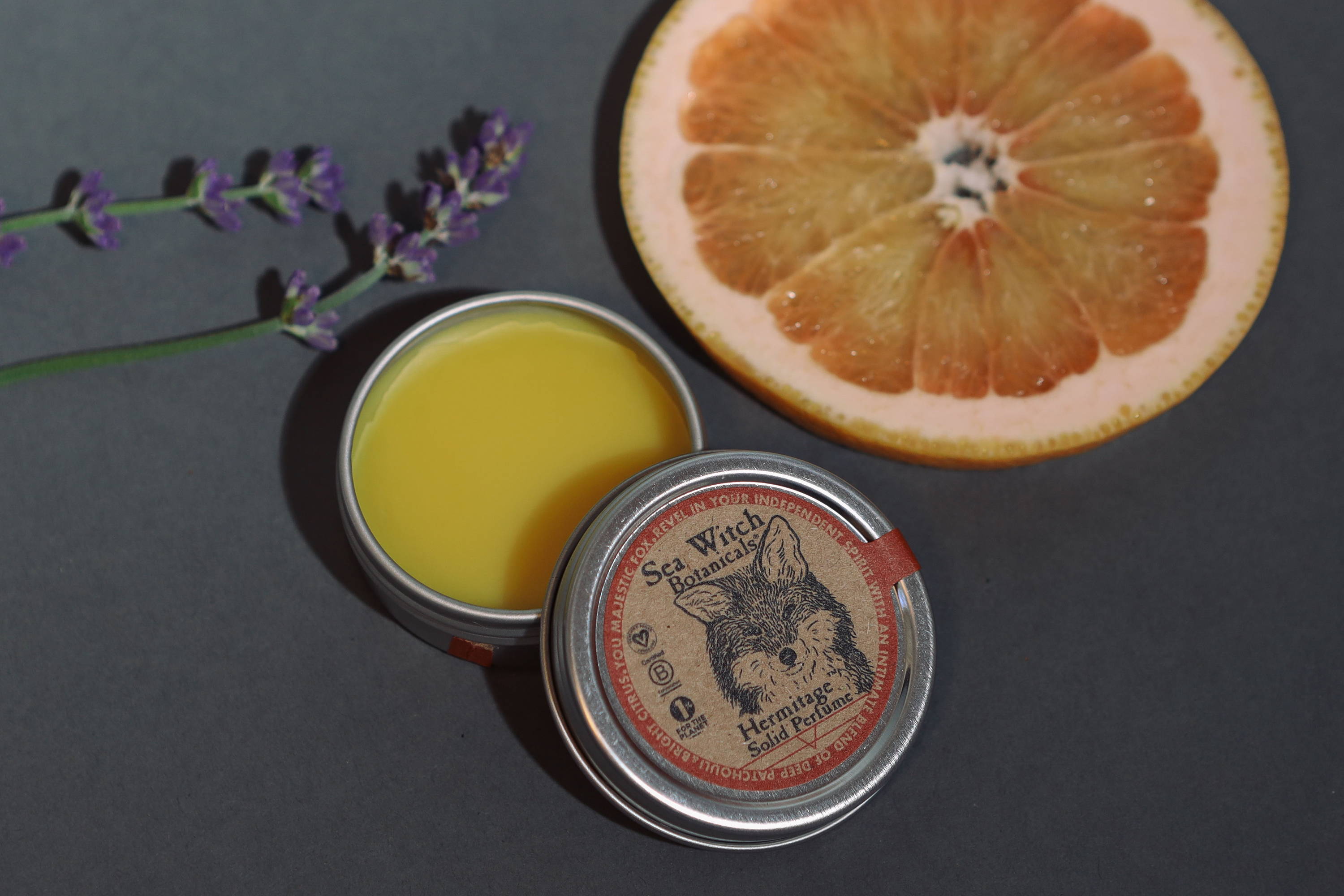 "Everyone knows about goat milk soap bars, but what about vegan soap bars? Look no farther than these beautifully crafted Vegan Organic Body Soaps when it comes to taking care of yourself – especially your skin. Whether infused with essential oils or crafted with the best ingredients, these vegan bar soaps are perfect to add to your self-care routine. Along with being an aligned choice for any vegan or vegetarian, these organic soaps have a beautiful and detailed design imprinted into them. Each image is imprinted onto rice paper with soy-based bio-toner giving you a gentle and vegan body soap that gently cleanses away the dirt and grime."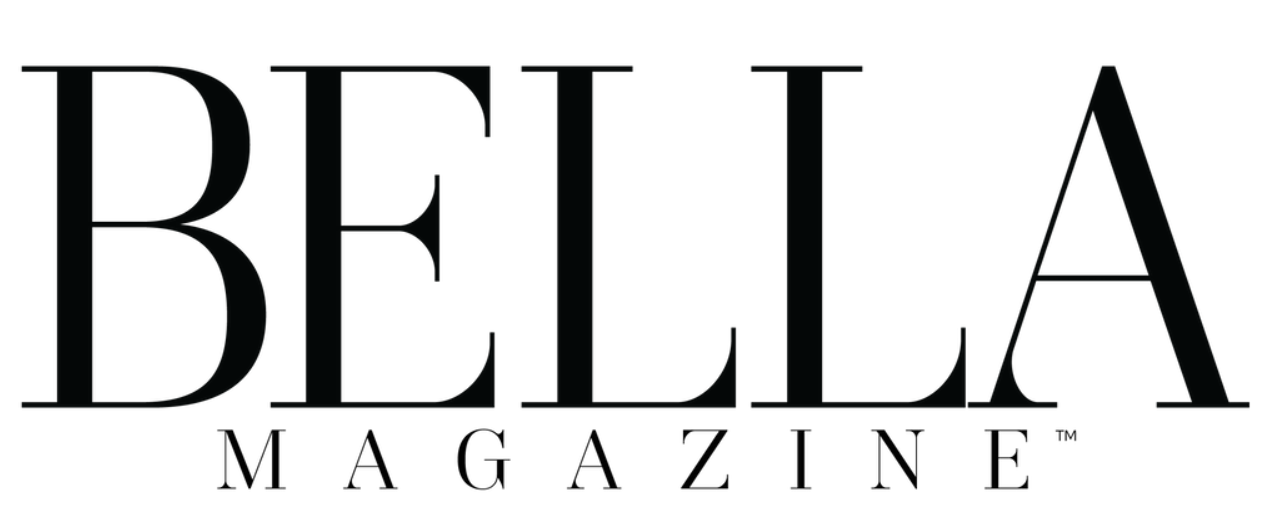 "Sea Witch Botanicals is SO ready for Earth Day by doing what they do best all year long – guiding consumers to a more eco-friendly lifestyle! A green health and wellness brand, they epitomize what it means to love the planet and responsibly take care of yourself and your home at the same time. A women-owned business, they are passionate about creating a clean, sustainable, brand with the environment in mind. They are a certified B-Corp, certified vegan, and run a certified Towards Zero Waste operation. They also donate to 1% for the Planet."

"Mom will love the solid perfumes from Sea Witch Botanicals. Their solid perfumes are presented in reusable, low-profile tins for her to take anywhere as they easily fits in a pocket or purse. Choose from 8 different scents including Goldberry, Green Fairy, White Lodge and more!"

"You've heard of shampoo bars, but what about bars of soap for cleaning?
Sea Witch Botanicals creates zero-waste home cleaning products like dish soap and produce wash in bar form.
Their soap bars are vegan, free of palm-oil, and are made with organic, fair trade oils.
I'm also really interested in their produce wash which was intended to help remove dirt, pathogens, and pesticides on produce without leaving any residue behind.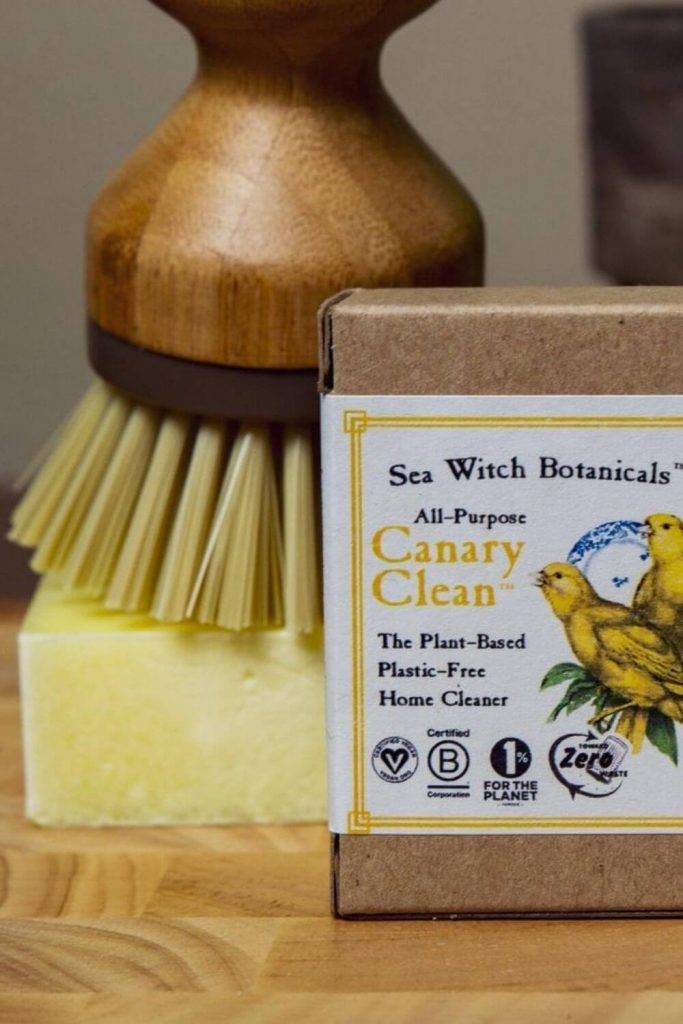 "Sea Witch Botanicals – Sea Witch Botanicals is so ready to do good for the Earth by doing what it does best: guiding consumers to a more eco-friendly lifestyle. A green health and wellness brand, Sea Witch epitomizes what it means to love the planet, yourself and your home."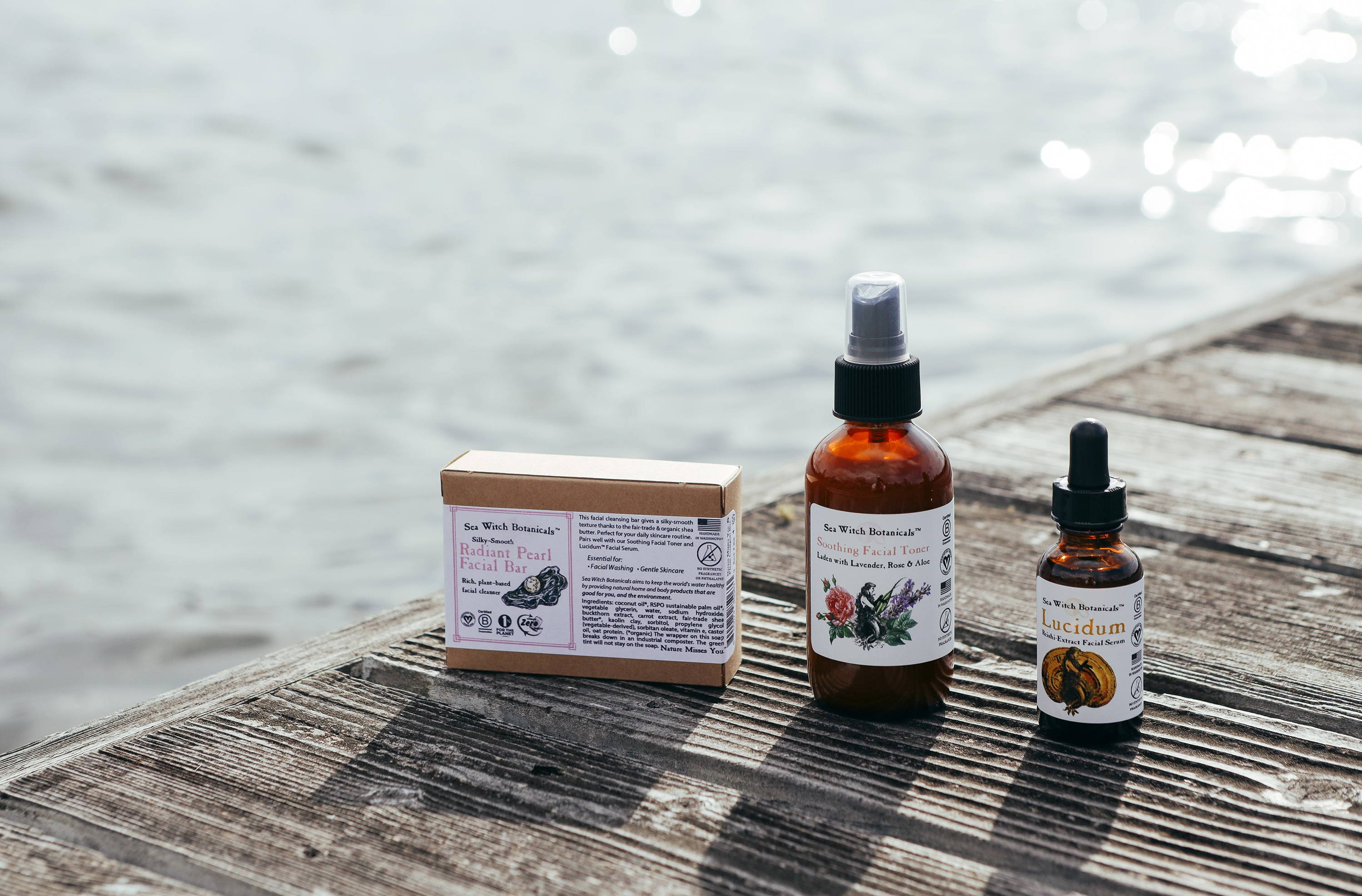 "I came across Sea Witch Botanicals a few months ago, when I saw their black lip tint on Instagram and immediately bought it, along with their zero waste dish soap. In between then and now, I've fallen in love with the brand and their passion for the earth and ocean. Based out of Bellingham, Washington, this brand holds sustainability, fairly sourced natural ingredients, and environmental advocacy at their core. I'm a practicing witch whose always been drawn to the ocean, and as with any witch, is called towards the most sustainable life possible in the modern world."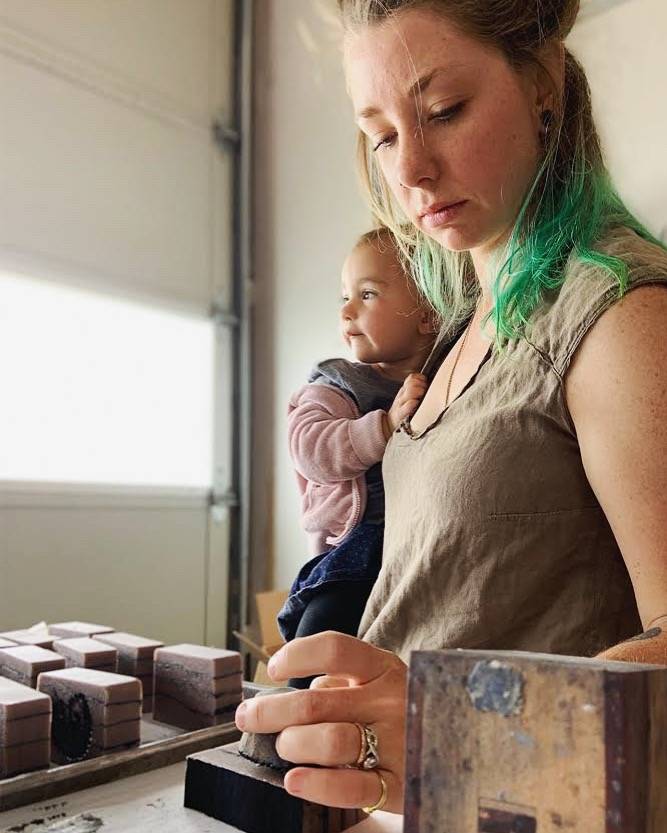 "With Sea Witch Botanicals' plant-based, plastic and chemical free home cleaner, there'll be "no need to send a canary into your home to test for toxins".
That's because it's made of a safe, fragrance-free blend of kaolin clay, orange essential oil, and fair trade organic coconut oil. No parabens, phthalates, SLS, or petroleum.
Despite the simple recipe, the oomph lies in the orange.
Orange is a natural grease cutter, while promoting a happy mood for the dish washer. No reason doing the dishes should make you miserable anymore.
Our favorite part of this vegan zero-waste soap is that it's designed for more than just dishes. Use it for kitchen surfaces, glass, carpet, fabric, and more.
That way, you're not just eliminating dish soap bottle waste, but waste from all sorts of other household cleaners, all with one purchase. As the label says, "Why have 10 bottles of cleaner under your sink when you can have 1 bar?"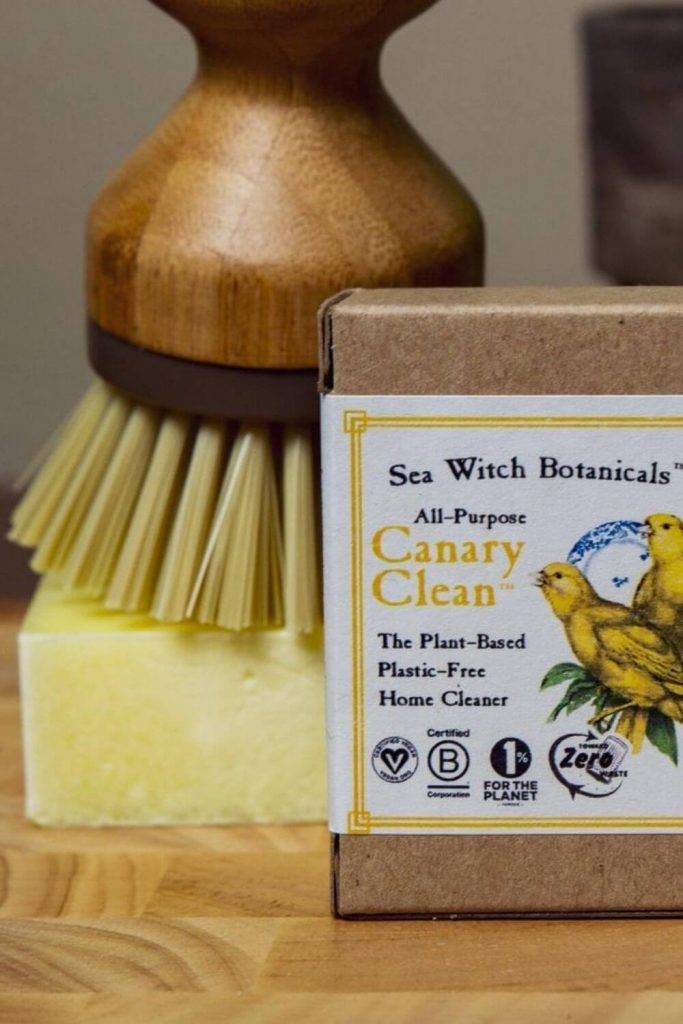 Heart of Seattle is organized by Chinook Book, a company whose goal is to work with local businesses to provide coupons and new experiences to customers. The Heart of Seattle Award seeks to promote businesses who focus on sustainability. We were honored to be a finalist in the Locally Made category!