Sea Witch Botanicals
Home Cleaning: Canary Clean™ - All-Purpose Natural Cleaner
Made with Essential Oils
Plastic-Free Packaging
No Synthetic Fragrances
Certified Vegan
Keep your kitchen sparkling with Canary Clean! This all-natural dish soap, glass cleaner, and surface cleaner is detergent-free, biodegradable, and completely plant-based. Best of all, this packaging can be composted and recycled!
Canary Clean Uses
Simplify Your Cupboard 
If you are anything like me you could use the extra cabinet space in your kitchen for food storage...not a chemical cocktail. With Canary Clean, you only need a sponge, a bar, and a little elbow grease to get the whole kitchen clean. 
No need to send a canary into your home to test for toxins. Canary Clean is free of any synthetic fragrances, sodium lauryl sulfate, petroleum, and other chemical nasties.
Use a reusable dish cloth or soap pouch for the ultimate in sustainability. 
More Bang for Your Buck
When kept in a well-draining soap dish, your bar will last approx 1-2 months. This of course depends on how clean you keep your nest, although you may find yourself wanting to clean more often.
Contains Natural De-Greasers
Contains orange essential oil which successfully removes the most stubborn grime, and promotes positive mood to boot! Works great for removing paint from hands. 
Nature-Approved
Completely biodegradable and safe for the environment, we love keeping water supplies clean and happy! You can feel good about what goes down your drain, and how great your Kitchen looks.
A Must-Have for Camping
Canary Clean belongs in every camping bag! An alternative to soaps with triclosan, detergents, and similar environmental disruptors. 
How to Use Canary Clean for an All-Natural Clean
For cleaning dishes, wet a natural sponge and rub against the bar of Canary Clean, creating a rich lather. Scrub the dishes with the lathered sponge, going over tougher spots as needed. 
For tough pans, you can cut of a small chunk of soap and soak to help loosen debris before scrubbing.
For cleaning surfaces, lather Canary Clean on a wet wash cloth or sponge, then scrub where necessary. Add a little "elbow grease" for tougher stains. 
For cleaning glass water pipes, cut off a small chunk of soap and drop it in the pipe, fill with hot water and swirl. Let the mixture stand for at least 10 minutes, swirl, and pour out. Use a scrub brush and repeat as needed. 
All-Natural – No Phthalates – No Parabens – No Petroleum – No Synthetic Fragrances
Ingredients
Saponified Organic Coconut Oil (Cocos nucifera), Orange Essential Oil (Citrus sinensis), Kaolin Clay
What gave you the inspiration for the company name, Sea Witch Botanicals?
I am very lucky to have grown up in Bellingham WA which is nestled along the northern-most point of the United States coastline before reaching "north of the wall". Because of where I grew up I was never far away from the sea. I noticed as I grew older that anytime I went inland, I would literally get sick; it would start with homesickness and soon turn into an actual cold, or headache or something else caused by stress. Every time I returned home I would immediately run to the sea and soak up its nourishing vibes. There is something extremely powerful and raw about the kind of "beaches" we have here in the Pacific Northwest. The coast line is rocky, windy, cold, and absolutely teeming with life.  When I decided to start a soap and cosmetic company my goal was simple: I wanted to keep waterways safe, as they had kept me safe my entire life. To me, being a Sea Witch means that you get your power from the sea and it is your obligation to care for it in return. The ocean is the womb of the world; there are many powerful magic workers, but none holds a bigger responsibility than those who care for the planet. To me the Sea Witch is an embodiment of responsibility, a warrior of the waves, anyone who takes up the mantle of protecting the waterways and using their green magic to make the world a better place. 
Is witchcraft a part of your practice at Sea Witch Botanicals?
I perform Green witchcraft which is not religious or rigid in any way, basically it is when you use the power of plants to benefit yourself and those around you, and in exchange you give back to the planet. Just as in foraging rules, you never take more that you leave behind. Although I I don't consider myself a Wiccan or practicing pagan, I was excommunicated by a part of my family that is conservative and Christian. This event was very formative in my journey as a small business owner, it motivated me to go farther, give more to the planet and treat all my employees like family. Blood is not thicker than water (lol)! My connection with nature is very deep and any time I wild forage or harvest homegrown herbs I take a moment to thank the plant, appreciate its journey and make sure to never take more than the plant can give and still flourish.
What is your process behind creating your scent blends?
Blending essential oils is when I become less of an alchemist and more of a scientist, I did go to school for massage therapy and aromatherapy but my passion was always more science-based. When I make a blend it is a lot of documentation, but I like to first start with a muse–either a book, or a spirit animal. I pin a picture of it on my whiteboard and get to work. I lay out a huge array of essential oils that fits the therapeutic needs of what I want to create. I have a million tiny jars with cotton balls inside and drop by drop I make dozens of trial scent profiles. From there I let the oils mingle and infuse for a few days, many oils change drastically in scent as the high notes evaporate and the low notes "simmer". Once the blends have reached maximum harmony I call the team in for a blind vote, everyone smells the blends, and then votes anonymously on their top three blends. It is a lot of fun and really gets the whole team involved in the creative process.
You mention fragrance oils a lot, why don't you use fragrance oils?
At the core of our company, we are environmentalists. It is our goal to reduce waste and plastic use as much as possible. The most insidious ingredients in most household products are fragrance oils; petroleum-based molecular cocktails that cannot be processed by your metabolism, don't easily break down under organic circumstances, and have their safety tested by the companies who produce them (not by unbiased third parties). 
Want to know how much of your life is filled with fragrance oils? Take our Fragrance Oil Assessment to determine your score. If you are interested in more information, sign up for our newsletter to learn more!
Are all of your products vegan?
Yes, all of our products are vegan AND all-natural. Soaps, candles, balms, and other products really don't need to use animal byproducts, so why should we support those companies who use animal-based lards and oils? Furthermore, not all vegan products are all-natural, as many companies use cheap plastic polymers in lieu of real organic ingredients. 
Do you use exclusively USDA Organic ingredients?
We do not exclusively use USDA Organic certified ingredients due to a number of reasons. Our primary goal is to offer all-natural alternatives to plastic-based ingredients. Many ingredients we source follow organic practices, but are not able to afford certification in the US. We source organic ingredients when absolutely necessary (rice oil, cocoa butter, etc.) and will continue to expand as it becomes possible to do so and keep our products affordable. 
Why do you use palm oil?
We only source from palm oil that's certified by the Roundtable on Sustainable Palm Oil. We believe in rewarding sustainable practices rather than allowing only slash'n'burn practices to thrive. In our personal lives, we avoid products with palm oil unless specifically called out as RSPO certified. 
You used to have "non-gmo" and "organic" claims on your labels. What changed?
Some of our retail partners started requiring more robust certifications, such as by the Non-GMO Project, to note any ingredients as non-GMO. Due to the cost of certification, we decided to remove these claims until we can progress through the due-process of certification. We still use the same high-quality ingredients as we did before, and continue to source more USDA Organic, fairtrade, and non-GMO materials!
How does your brand exemplify sustainability?
As a certified B-Corp & a 1% for the Planet member, our company measures success according to the triple bottom line of people, planet and profit. We seek to be changemakers in an industry that is typically plagued with insidious toxic ingredients and excess packaging by creating minimally-packaged, plant-powered products. We create an annual sustainability report to measure our goals which include maintaining a toward zero-waste facility, supporting renewable energy, donating to social & environmental non-profits, as well as growing our team and benefits to name a few.
Are your incense sticks safe to burn around dogs?
Burning incense is best if done in moderation with good ventilation and if you can burn your incense high up and away from your pets, you should not have a problem. As a side note, our Founder has burned our incense around her cat (he is almost 10) and dogs for many years and has never had any health conditions arise. All of that being said, if you are concerned about the health impact on your pet, please seek information from your veterinarian.
Do you ship internationally? 
We are unable to ship to internationally at this time. We really appreciate your support and would recommend checking out our online stockist Spirit Nest: https://spiritnest.com/ to order our goods in the meantime.
Why won't my candle light?
Here are a few tips for troubleshooting your candle: try using a lighter rather than a match to flame the wick across the entire top surface evenly. If it does not stay lit, lightly tap using gentle pressure from your fingertip the burnt top off so that you try flaming it again without the burnt edge. You'll also want to give it a light amount of oxygen with your breath.
How do we make shipping sustainable?
All of our packing tape and peanuts are 100% compositable and come in a recyclable box making each order zero waste. Our 2021 goal is to offset CO2 produced by shipping packages by planting trees. 
Returns Policy
Your satisfaction is our top priority. If you are not satisfied with your purchase, we will gladly refund you if bought online from our store within 30 days, or can find a substitute product. 
To complete your return, we require a receipt or proof of purchase. You can reference your order number, which would have been emailed to you.
Please Don't Be Rude
We will do what we can to make it right if you aren't completely satisfied with our products. Believe us, this is the case. Please keep in mind that we are a small team of passionate creators who take a lot of pride in what we do. 
We reserve the right to refuse service to rude customers at our sole discretion. Again, please be nice and we'll figure out a solution together. 
Partial Refunds
There are certain situations where only partial refunds are granted (if applicable):
Any order refund volume in excess of $75. 
Any item that is returned more than 30 days after delivery.
Shipping costs are ineligible for refund (this is already paid to the carrier). 
There is a limit of one exchange/refund per order. We reserve the right to refuse refunds to any customers who abuse this courtesy (a return every time, Todd??). We doubt you're the type to take advantage, but we just want to lay it out here. 
Breakage? 
If an item breaks in shipment, immediately take a picture of the product, inside of the box, and any other photos you think would help us in figuring out how we could have shipped it better. Send us these photos so we can ship out a replacement, pronto!
Late or missing refunds (if applicable)
If you haven't received a refund yet, first check your bank account again.
Then contact your credit card company, it may take some time before your refund is officially posted.
Next contact your bank. There is often some processing time before a refund is posted.
If you've done all of this and you still have not received your refund yet, please contact us at hifriend@seawitchbotanicals.com.
Sale items (if applicable)
Sale items can be refunded for the amount purchased, not the full price amount. 
Shipping Policy
Retail orders are typically shipped within three business days of purchase, but please be patient as COVID safety protocols requires a lot of social distancing and scheduling of odd-hours to keep enough distance between everyone. If a package is returned due to an incorrect address provided during the checkout, we reserve the right to charge additional shipping. Requests for shipping information can be sent to hifriend@seawitchbotanicals.com.
Holiday Delivery
Due to the growing list of delays to mail delivery services (COVID, dismantling of the USPS, safety protocols, supply chain upheavals... take your pick!), we cannot guarantee that your orders will get to you for any specific holiday. That said, you can order by Dec. 11th and be relatively sure you'll get it for Yule (Dec. 21st). 
Where's My Order?
"I got a notification that my package arrived, but it's not here." Sometimes USPS, UPS, or FedEx will state the a package has been delivered, when it is in-fact sitting on the delivery truck. Please be patient with the parcel deliverers, since COVID has significantly increased the level of online orders and these local champions aren't really getting the help and support they need to get their job done "on time". Please wait a day (or two) extra for your package to arrive. When you DO get that package, be sure to smile a lot and long-distance "hug" your mail carrier. They're going through a lot!
Local Pickup
Local pickup is available for our Bellingham, Washington location. Please allow 24 hours to prepare your order. Pickup is available at our retail/manufacturing facility Monday through Friday. You will receive a notification and instructions for when your order is ready to be picked up!
TERMS OF SERVICE


-----

OVERVIEW

This website is operated by Sea Witch Botanicals. Throughout the site, the terms "we", "us" and "our" refer to Sea Witch Botanicals. Sea Witch Botanicals offers this website, including all information, tools and services available from this site to you, the user, conditioned upon your acceptance of all terms, conditions, policies and notices stated here.

By visiting our site and/ or purchasing something from us, you engage in our "Service" and agree to be bound by the following terms and conditions ("Terms of Service", "Terms"), including those additional terms and conditions and policies referenced herein and/or available by hyperlink. These Terms of Service apply  to all users of the site, including without limitation users who are browsers, vendors, customers, merchants, and/ or contributors of content.

Please read these Terms of Service carefully before accessing or using our website. By accessing or using any part of the site, you agree to be bound by these Terms of Service. If you do not agree to all the terms and conditions of this agreement, then you may not access the website or use any services. If these Terms of Service are considered an offer, acceptance is expressly limited to these Terms of Service.

Any new features or tools which are added to the current store shall also be subject to the Terms of Service. You can review the most current version of the Terms of Service at any time on this page. We reserve the right to update, change or replace any part of these Terms of Service by posting updates and/or changes to our website. It is your responsibility to check this page periodically for changes. Your continued use of or access to the website following the posting of any changes constitutes acceptance of those changes.

Our store is hosted on Shopify Inc. They provide us with the online e-commerce platform that allows us to sell our products and services to you.

SECTION 1 - ONLINE STORE TERMS

By agreeing to these Terms of Service, you represent that you are at least the age of majority in your state or province of residence, or that you are the age of majority in your state or province of residence and you have given us your consent to allow any of your minor dependents to use this site.
You may not use our products for any illegal or unauthorized purpose nor may you, in the use of the Service, violate any laws in your jurisdiction (including but not limited to copyright laws).
You must not transmit any worms or viruses or any code of a destructive nature.
A breach or violation of any of the Terms will result in an immediate termination of your Services.

SECTION 2 - GENERAL CONDITIONS

We reserve the right to refuse service to anyone for any reason at any time.
You understand that your content (not including credit card information), may be transferred unencrypted and involve (a) transmissions over various networks; and (b) changes to conform and adapt to technical requirements of connecting networks or devices. Credit card information is always encrypted during transfer over networks.
You agree not to reproduce, duplicate, copy, sell, resell or exploit any portion of the Service, use of the Service, or access to the Service or any contact on the website through which the service is provided, without express written permission by us.
The headings used in this agreement are included for convenience only and will not limit or otherwise affect these Terms.

SECTION 3 - ACCURACY, COMPLETENESS AND TIMELINESS OF INFORMATION

We are not responsible if information made available on this site is not accurate, complete or current. The material on this site is provided for general information only and should not be relied upon or used as the sole basis for making decisions without consulting primary, more accurate, more complete or more timely sources of information. Any reliance on the material on this site is at your own risk.
This site may contain certain historical information. Historical information, necessarily, is not current and is provided for your reference only. We reserve the right to modify the contents of this site at any time, but we have no obligation to update any information on our site. You agree that it is your responsibility to monitor changes to our site.

SECTION 4 - MODIFICATIONS TO THE SERVICE AND PRICES

Prices for our products are subject to change without notice.
We reserve the right at any time to modify or discontinue the Service (or any part or content thereof) without notice at any time.
We shall not be liable to you or to any third-party for any modification, price change, suspension or discontinuance of the Service.

SECTION 5 - PRODUCTS OR SERVICES (if applicable)

Certain products or services may be available exclusively online through the website. These products or services may have limited quantities and are subject to return or exchange only according to our Return Policy.
We have made every effort to display as accurately as possible the colors and images of our products that appear at the store. We cannot guarantee that your computer monitor's display of any color will be accurate.
We reserve the right, but are not obligated, to limit the sales of our products or Services to any person, geographic region or jurisdiction. We may exercise this right on a case-by-case basis. We reserve the right to limit the quantities of any products or services that we offer. All descriptions of products or product pricing are subject to change at anytime without notice, at the sole discretion of us. We reserve the right to discontinue any product at any time. Any offer for any product or service made on this site is void where prohibited.
We do not warrant that the quality of any products, services, information, or other material purchased or obtained by you will meet your expectations, or that any errors in the Service will be corrected.

SECTION 6 - ACCURACY OF BILLING AND ACCOUNT INFORMATION

We reserve the right to refuse any order you place with us. We may, in our sole discretion, limit or cancel quantities purchased per person, per household or per order. These restrictions may include orders placed by or under the same customer account, the same credit card, and/or orders that use the same billing and/or shipping address. In the event that we make a change to or cancel an order, we may attempt to notify you by contacting the e-mail and/or billing address/phone number provided at the time the order was made. We reserve the right to limit or prohibit orders that, in our sole judgment, appear to be placed by dealers, resellers or distributors.

You agree to provide current, complete and accurate purchase and account information for all purchases made at our store. You agree to promptly update your account and other information, including your email address and credit card numbers and expiration dates, so that we can complete your transactions and contact you as needed.

For more detail, please review our Returns Policy.

SECTION 7 - OPTIONAL TOOLS

We may provide you with access to third-party tools over which we neither monitor nor have any control nor input.
You acknowledge and agree that we provide access to such tools "as is" and "as available" without any warranties, representations or conditions of any kind and without any endorsement. We shall have no liability whatsoever arising from or relating to your use of optional third-party tools.
Any use by you of optional tools offered through the site is entirely at your own risk and discretion and you should ensure that you are familiar with and approve of the terms on which tools are provided by the relevant third-party provider(s).
We may also, in the future, offer new services and/or features through the website (including, the release of new tools and resources). Such new features and/or services shall also be subject to these Terms of Service.

SECTION 8 - THIRD-PARTY LINKS

Certain content, products and services available via our Service may include materials from third-parties.
Third-party links on this site may direct you to third-party websites that are not affiliated with us. We are not responsible for examining or evaluating the content or accuracy and we do not warrant and will not have any liability or responsibility for any third-party materials or websites, or for any other materials, products, or services of third-parties.
We are not liable for any harm or damages related to the purchase or use of goods, services, resources, content, or any other transactions made in connection with any third-party websites. Please review carefully the third-party's policies and practices and make sure you understand them before you engage in any transaction. Complaints, claims, concerns, or questions regarding third-party products should be directed to the third-party.

SECTION 9 - USER COMMENTS, FEEDBACK AND OTHER SUBMISSIONS

If, at our request, you send certain specific submissions (for example contest entries) or without a request from us you send creative ideas, suggestions, proposals, plans, or other materials, whether online, by email, by postal mail, or otherwise (collectively, 'comments'), you agree that we may, at any time, without restriction, edit, copy, publish, distribute, translate and otherwise use in any medium any comments that you forward to us. We are and shall be under no obligation (1) to maintain any comments in confidence; (2) to pay compensation for any comments; or (3) to respond to any comments.
We may, but have no obligation to, monitor, edit or remove content that we determine in our sole discretion are unlawful, offensive, threatening, libelous, defamatory, pornographic, obscene or otherwise objectionable or violates any party's intellectual property or these Terms of Service.
You agree that your comments will not violate any right of any third-party, including copyright, trademark, privacy, personality or other personal or proprietary right. You further agree that your comments will not contain libelous or otherwise unlawful, abusive or obscene material, or contain any computer virus or other malware that could in any way affect the operation of the Service or any related website. You may not use a false e-mail address, pretend to be someone other than yourself, or otherwise mislead us or third-parties as to the origin of any comments. You are solely responsible for any comments you make and their accuracy. We take no responsibility and assume no liability for any comments posted by you or any third-party.

SECTION 10 - PERSONAL INFORMATION

Your submission of personal information through the store is governed by our Privacy Policy. To view our Privacy Policy.

SECTION 11 - ERRORS, INACCURACIES AND OMISSIONS

Occasionally there may be information on our site or in the Service that contains typographical errors, inaccuracies or omissions that may relate to product descriptions, pricing, promotions, offers, product shipping charges, transit times and availability. We reserve the right to correct any errors, inaccuracies or omissions, and to change or update information or cancel orders if any information in the Service or on any related website is inaccurate at any time without prior notice (including after you have submitted your order).
We undertake no obligation to update, amend or clarify information in the Service or on any related website, including without limitation, pricing information, except as required by law. No specified update or refresh date applied in the Service or on any related website, should be taken to indicate that all information in the Service or on any related website has been modified or updated.

SECTION 12 - PROHIBITED USES

In addition to other prohibitions as set forth in the Terms of Service, you are prohibited from using the site or its content: (a) for any unlawful purpose; (b) to solicit others to perform or participate in any unlawful acts; (c) to violate any international, federal, provincial or state regulations, rules, laws, or local ordinances; (d) to infringe upon or violate our intellectual property rights or the intellectual property rights of others; (e) to harass, abuse, insult, harm, defame, slander, disparage, intimidate, or discriminate based on gender, sexual orientation, religion, ethnicity, race, age, national origin, or disability; (f) to submit false or misleading information; (g) to upload or transmit viruses or any other type of malicious code that will or may be used in any way that will affect the functionality or operation of the Service or of any related website, other websites, or the Internet; (h) to collect or track the personal information of others; (i) to spam, phish, pharm, pretext, spider, crawl, or scrape; (j) for any obscene or immoral purpose; or (k) to interfere with or circumvent the security features of the Service or any related website, other websites, or the Internet. We reserve the right to terminate your use of the Service or any related website for violating any of the prohibited uses.

SECTION 13 - DISCLAIMER OF WARRANTIES; LIMITATION OF LIABILITY

We do not guarantee, represent or warrant that your use of our service will be uninterrupted, timely, secure or error-free.
We do not warrant that the results that may be obtained from the use of the service will be accurate or reliable.
You agree that from time to time we may remove the service for indefinite periods of time or cancel the service at any time, without notice to you.
You expressly agree that your use of, or inability to use, the service is at your sole risk. The service and all products and services delivered to you through the service are (except as expressly stated by us) provided 'as is' and 'as available' for your use, without any representation, warranties or conditions of any kind, either express or implied, including all implied warranties or conditions of merchantability, merchantable quality, fitness for a particular purpose, durability, title, and non-infringement.
In no case shall Sea Witch Botanicals, our directors, officers, employees, affiliates, agents, contractors, interns, suppliers, service providers or licensors be liable for any injury, loss, claim, or any direct, indirect, incidental, punitive, special, or consequential damages of any kind, including, without limitation lost profits, lost revenue, lost savings, loss of data, replacement costs, or any similar damages, whether based in contract, tort (including negligence), strict liability or otherwise, arising from your use of any of the service or any products procured using the service, or for any other claim related in any way to your use of the service or any product, including, but not limited to, any errors or omissions in any content, or any loss or damage of any kind incurred as a result of the use of the service or any content (or product) posted, transmitted, or otherwise made available via the service, even if advised of their possibility. Because some states or jurisdictions do not allow the exclusion or the limitation of liability for consequential or incidental damages, in such states or jurisdictions, our liability shall be limited to the maximum extent permitted by law.

SECTION 14 - INDEMNIFICATION

You agree to indemnify, defend and hold harmless Sea Witch Botanicals and our parent, subsidiaries, affiliates, partners, officers, directors, agents, contractors, licensors, service providers, subcontractors, suppliers, interns and employees, harmless from any claim or demand, including reasonable attorneys' fees, made by any third-party due to or arising out of your breach of these Terms of Service or the documents they incorporate by reference, or your violation of any law or the rights of a third-party.

SECTION 15 - SEVERABILITY

In the event that any provision of these Terms of Service is determined to be unlawful, void or unenforceable, such provision shall nonetheless be enforceable to the fullest extent permitted by applicable law, and the unenforceable portion shall be deemed to be severed from these Terms of Service, such determination shall not affect the validity and enforceability of any other remaining provisions.

SECTION 16 - TERMINATION

The obligations and liabilities of the parties incurred prior to the termination date shall survive the termination of this agreement for all purposes.
These Terms of Service are effective unless and until terminated by either you or us. You may terminate these Terms of Service at any time by notifying us that you no longer wish to use our Services, or when you cease using our site.
If in our sole judgment you fail, or we suspect that you have failed, to comply with any term or provision of these Terms of Service, we also may terminate this agreement at any time without notice and you will remain liable for all amounts due up to and including the date of termination; and/or accordingly may deny you access to our Services (or any part thereof).

SECTION 17 - ENTIRE AGREEMENT

The failure of us to exercise or enforce any right or provision of these Terms of Service shall not constitute a waiver of such right or provision.
These Terms of Service and any policies or operating rules posted by us on this site or in respect to The Service constitutes the entire agreement and understanding between you and us and govern your use of the Service, superseding any prior or contemporaneous agreements, communications and proposals, whether oral or written, between you and us (including, but not limited to, any prior versions of the Terms of Service).
Any ambiguities in the interpretation of these Terms of Service shall not be construed against the drafting party.

SECTION 18 - GOVERNING LAW

These Terms of Service and any separate agreements whereby we provide you Services shall be governed by and construed in accordance with the laws of 2020 Franklin St Bellingham Washington US 98225.

SECTION 19 - CHANGES TO TERMS OF SERVICE

You can review the most current version of the Terms of Service at any time at this page.
We reserve the right, at our sole discretion, to update, change or replace any part of these Terms of Service by posting updates and changes to our website. It is your responsibility to check our website periodically for changes. Your continued use of or access to our website or the Service following the posting of any changes to these Terms of Service constitutes acceptance of those changes.

SECTION 20 - CONTACT INFORMATION

Questions about the Terms of Service should be sent to us at info@seawitchbotanicals.com.


--------------------------------------
Customer Reviews
Write a Review
Ask a Question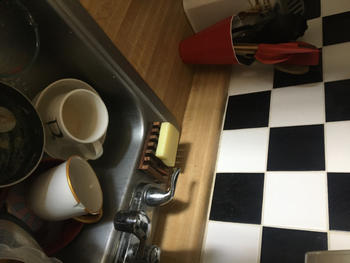 07/03/2020
I recommend this product
it really works!!
This soap is amazing. It worked on dishes, surfaces, I even scrubbed the grime out of the shower with it. Sparkling clean and smells so good! I love that I don't have to rely on plastic and harsh chemicals to get sh*t clean!! Thank you :)
Elizabeth R.

United States
06/02/2021
I recommend this product
Wonderful kitchen/household cleaner!
Love this soap's scent, clean yet not overpowering, and it works great at de-greasing dishes, etc. Highly recommend!
IB
Irene B.

United States
05/08/2021
I recommend this product
Unbelievable!
This cleaner works unbelievably well. I don't know what I did without it.
Mickey B.

United States
04/21/2021
I recommend this product
Great green product!
I was a little worried about switching to a bar soap cleaner, but this has turned out to be an easy switch! The Canary Clean soap gets everything off and smells amazing!
Anonymous

United States
04/21/2021
I recommend this product
Love this product!!!
It works great on dishes, counter tops and even used it for mopping the floor. I love the smell too.
Rebecca M.

United States
03/10/2021
I recommend this product
Fantastic!
This product is so great and cleans beautifully. The scent is very nice and fresh, cleaning without the overwhelming smell of chemicals. I've used the soap for cleaning so many things and a little goes a long way.....highly recommend!
Amy L.

United States
03/07/2021
I recommend this product
Great dish soap!
I love this dish soap, how long it lasts, how much room it doesn't take up in my kitchen, the bright orange smell, and that it actually works.
Anonymous

United States
03/07/2021
I recommend this product
Fantastic soap!
I use this for dish soap and I love it! It gets sudsy and works well. Love the earth friendly packaging it comes in.
Anonymous

United States
03/06/2021
I recommend this product
Great Products
I am very happy to chance upon this great company! I have sensitivity to soant scents, I rarely can use the products I purchase. The incense and soap I received were awesome. No problems, and in fact, are the best I've found! Thanks!
Toni B.

United States
03/01/2021
I recommend this product
I love this!!
Hands free, just swish the cloth or sponge (or your hand) over the bar, and it's all squeaky clean! Smells great too. What's not to love, no waste. no mess!
Granny J.

United States
01/18/2021
I recommend this product
My Zero Waste Staple
It's been my goal to transition into zero waste and use biodegradable products when I can. At first I was concerned that this soap wouldn't cut through the grease as well as other dish soaps, but I've had no problems easily cleaning our dishes.
Megan B.

United States
01/12/2021
I recommend this product
Good overall
As a bar it works great. I've made it into liquid soap before and although it still works, you need to use more than other liquid soap options. Some key highlights of this product is it smells nice, is non-toxic, doesn't use plastic in its packing or shipping, and is able to deal with grease okay (just need to use a little more)
Rachel G.

United States